The Enrico Biscotti Café in Pittsburgh's Strip District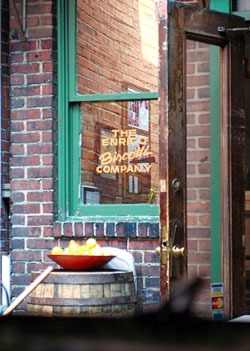 Enrico's Café is a hidden treasure in Pittsburgh's historic Strip District neighborhood. Take a gander through the cute alley way and enter the red door where you will find our gem, a true wood-fired brick oven. For over 25 years, we have been making classic Neapolitan pizza and traditional Italian cucina povera, peasant food. We keep our menu simple and true to our beliefs, authentic and fresh. Our ingredients are bought locally from our Strip District neighbors. Along with our food, the atmosphere and experience are one of a kind. Customers are treated like family. You will think you're at a café in Italy. We are the place where the locals gather.
Café Hours:
Friday: 11:00 a.m to 2:00 p.m.
Saturday 11:00 a.m to 3:00 p.m.
We do not accept reservations.