About The Enrico Biscotti Company in Pittsburgh's Strip District
As seen on the Food Network
Un Regalo da Enrico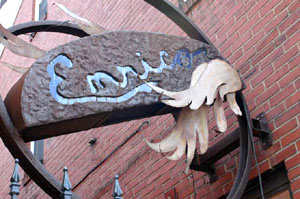 Wander into a small bakery in Pittsburgh's Historic Strip District; you'll find the aromas are intoxicating. At Enrico Biscotti, we have all manner of traditional Italian pastries, from macaroons to tortas. But what will surely catch your eye are the magnificent biscotti; huge – not the typical small, hard, no taste variety that seem to be everywhere. We hand shape and bake every loaf of biscotti, then hand cut every piece. The result is a biscotti that is not uniform in size and shape, but one that is unique, natural and true to the methods that bakers have used for hundreds of years.
All the products are made on site and by hand. Although we don't employ assembly line methods, we have the capacity to produce over 1000 pounds of biscotti every day. Only natural ingredients are used in the production of Enrico Biscotti; butter, eggs, Neilson Massey brand vanillas, nuts and spices. We have never used any artificial flavors or preservatives.
Enrico Biscotti are authentic Italian Biscotti.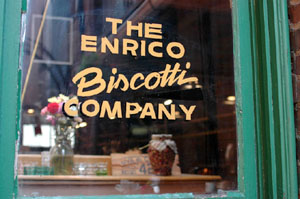 Using only real butter and natural ingredients, we're keeping alive the ancient tradition of artisan baking. It's the only way to provide the quality biscotti that our customers have come to expect. The only things that ever touch the product are the skillful hands of our bakers and incredibly sharp knives.
With flavors that begin with Anise and Almond biscotti, and go to White Chocolate with Macadamia Nuts, we have a flavor of biscotti for every taste.
Enrico Biscotti – once you taste them, we are sure that you will agree that you have found something very special.
VISIT THE CAFE AT ENRICO BISCOTTI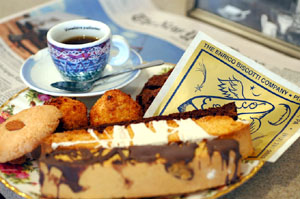 Enrico Biscotti is now accepting bookings for all your holiday needs. From parties, to corporate gifts, to even off site catering – we got ya covered!
Book your events soon as our space is filling up fast!